all-in-one touch computers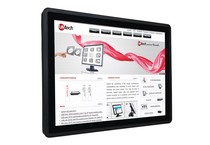 7 inch - 32 inch
faytech's Capacitive PC series stands out among competition with its fanless silent operation, IP65 front panel design, high reliability and fine craftwork. It is the perfect choice for industrial and business application. It has flat edge to edge glass with IP65 water- and dust proof front panels. The heart of the Touchscreen PC is either faytech's industrial fay-002, Apollo Lake or Kaby Lake U mainboard. The PCs are available in the following standard versions:
• Intel® Pentium® N4200 QuadCore processor, 2.50 GHz core speed
• Intel® Core™ i5-7300U DualCore Processor, 2.60 GHz core speed
It is the perfect choice for a wide variety of applications including POS systems, control panels in industrial fields, in kiosk systems, office/residence automation, digital signage and in areas like shopping malls, classrooms, hotels and many more.
---